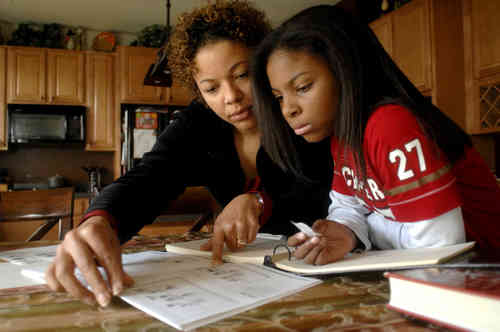 Homeschooling has always been thought of as a 'white-privilege-thing'
Maybe because people think you need a lot of money to homeschool, or you need to live in the best part of town. Not true. One of the beautiful things about homeschooling is that you can tailor it to suit your families needs, whatever they may be.
As a black mother and parent, when I come across another black parent that homeschools, I feel like I've hit the jackpot….doesn't matter if I meet the parent in person or online.
If I meet you online or in person and find out you're online – I probably stalk you follow you on at least one or all of your social media networks.
There are a lot of Black families that homeschool, and here is a list of several for you to follow.
The Blessed Heritage Chronicles is written by Belinda
"The fact that we home education has, over the years, changed every single aspect of our life, and for those who find themselves here as possible new homeschoolers, or brand new, you'll find that the same is true of your home as you embark on this journey."
An Academy of Our Own is written by Julia
"I believe every person is a unique individual. Education should be tailored to suit both the strengths and the deficits of the individual.
I believe the learning environment should be relaxed, stimulating, and most importantly, safe. "
A Perfect Homestead is written by Latrecia
"Schooling at home is a wonderful blessing! This learning never ends! We live every day like this and have no "set schedule" to when learning can or will be done."
A Little This…A Little That is written by Latonya
"I have been given the privilege to teach two awesome girls at home. Our girls are both elementary aged so our days are still filled with fun activities and outings. I actually love homeschooling, and the chance to be such a dynamic force in our girls lives. "
Mahogany Homemaker is written by Mahogany Homemaker
She also runs the Google Plus group Mahogany Homemakers.
"One of the blessings of home education is that you have the opportunity to study various different world cultures without limitations.
You can use unit studies, lapbooks, living books, textbooks, workbooks, videos, field trips, apprenticeships, interviews, reports, notebooking, interactive notebooking, anchor charts, board games, card games, puzzles, computer games, video games, interactive websites, flash cards etc…"
Child of the Nature Isle is written by Terri
"Our kitchen (and probably yours too), is really an unschooling classroom where we learn just through living and enjoying ourselves."
The Squishable Baby is written by Lisa
"Life is a learning process – and I choose to learn every day in every way. I also choose to look at the bright side of things – even when there doesn't seem to be one."
I found this article interesting. More than 100k African American Parents Are Now Homeschooling Their Children.
"Our children need their parents to take an active role and be involved, regardless, because the odds, stats, and system isn't stacked in their favor. They are going to need us to show mad love and involvement, which is clear to many. Love is important in education, which is why home schooling really works."
Are you a Black Homeschooling Blogger, or do you know of any that aren't listed?
Share in the comments!
Darcel is Single Mama to three – Writing about Parenting, Homeschooling/Unschooling, Autism, Dyslexia, and Knitting on her blog – The Mahogany Way.
You can build community with her on  Facebook.
Chat with her in a 140 characters or less about the craziness of daily life onTwitter.
Join her in the visual goodness of Pinterest and  Instagram!