As black mothers we know that the world can be unkind to little black girls. That's why it's important for us to affirm them at home so they can shine out in the world. Here are 30 books that affirm and empower black girls.
True Stories
1. Singing For Dr. King
A sweet story about two little girls who  make their mark in history by participating in the Civil Rights Movement.  This story will show young girls that they too can be involved in social movements.
2.  Celia Cruz, Queen of Salsa
I love Celia Cruz and I love her story.  Young Black girls from all around the world can look to the Queen of Salsa and be inspired to follow their passions despite facing discrimination and injustice.
3. Little Melba and Her Big Trombone
Melba Doretta Liston was a great jazz trombonist, musical arranger, and composer.  Most often when women in jazz are presented, it is as singers.  This beautifully illustrated picture book shows a talented and creative Black woman and her impact on jazz.
4. One Plastic Bag: Isatou Ceesay and the Recycling Women of the Gambia
I love how one woman created a solution to a problem in her community by turning plastic bags into purses!  This story shows girls that they can make an impact on your world in a creative way.
5. Mama Miti: Wangari Maathai and the Trees of Kenya
Women approach Mama Miti with all sorts of problems including hunger within the family, homelessness, and sick animals. Her answer to all of them is plant a tree.  A tree can grow food, be used to build a home, and provide herbs that heal.
6. Raising the Bar
Many young girls are inspired by Gabby Douglas. Even if you are not into gymnastics reading her story is empowering especially because she has made recent history.
7. Drum Dream Girl: How One Girl's Courage Changed Music
When Millo Castro Zaldarriaga was a young girl, only men could drum.  However she did not let that stop her from pursuing her passion.  Set in Cuba, this story shows young girls that anything is possible.
8. Talkin' About Bessie: The Story of Aviator Elizabeth Coleman 
Let your daughter be empowered by this narrative about the first African American pilot.
Loving Your Natural Hair
9. I Love My Hair!
A beautiful story where a mother tells a child about her history, while embracing her natural hair texture.
10. Hair Like Mine Is One of a Kind
A wonderful short poem that teaches children to love their hair, regardless of the texture or length.
11. Kinky Hair is Queenly Hair
Poetic and historical, young girls are empowered by seeing themselves in the true accounts of Black women throughout history.
12. Bintou's Braids
I love this story about a little girl who wants to have long braids, like the older women in her community.  She is taught by her elders to love and embrace the hair that she has right now.
13. Penny and the Magic Puffballs
Penny is dealing with peer pressure and the desire to have hair like her classmates.  Her mother teaches her to love her own hair by styling it in two "magic puff balls."  Since reading this story, my two little girls have asked repeatedly for magic puff balls.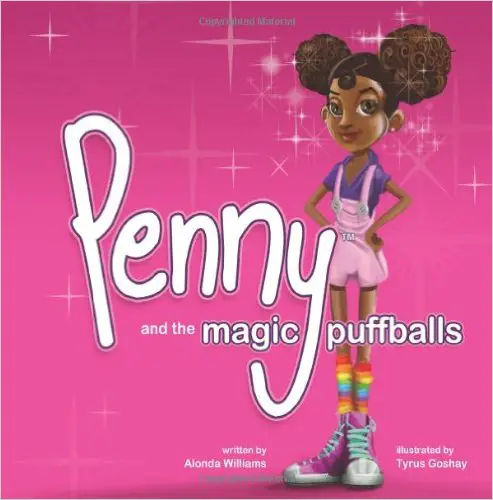 Black Girl Magic-Just Being Fabulously Black and a Girl
14. Keep Climbing, Girls
A wonderfully illustrated rendition of Beach E. Richards' 1951 poem of the same name.  This story is about a girl who climbs trees, relentlessly, even after being told that girls don't climb trees.  The story encourages girls to climb both physical and metaphorical obstacles.
15. Princess Truly in I Am Truly
Upbeat and fun poem about being great, starring a beautiful black girl with two puffs.
16. Beautiful Ballerina
The text in this book is minimal, but the images of black girls doing ballet are encouraging and inspiring.
17. I Got the Rhythm
A spunky, upbeat poem with lovely illustrations by Frank Morrison.
18. Queen of the Scene
This young lady cannot be stopped.  She is everything athletic,  everything confident, everything Black Girl Magic.
19. The Rain Stomper
I love this story and how it evokes poetic onomatopoeia. It is told through the eyes of a young girl whose parade has been canceled, but she marches anyway. The story shows how when one person lets their light shine, others will eventually see it and be inspired to shine as well.
20. The Girls In The Circle
Nikki Giovanni celebrates painting nails, having friends, and dressing up in mommy's clothes.  This is a fun poem for black girls to celebrate each other.
21. Grace for President
A wonderful story to tell around election time. A girl questions why there haven't been any woman presidents, and decides to run for president of her class.
22. Firebird
Through this poetic narrative Misty Copeland encourages a young girl to follow her dreams and overcome obstacles she can relate to.
23. The Bravest Girls In The World
Toshi overcomes her fears and learns to be brave when she is encouraged by a friend.
24. Dancing in the Wings
Based on Debbie Allen's experience with dance, she tells a story about a girl who is told that she is not the typical dancer, because of her feet.
25.Come On, Rain!
It's hot and raining, but that doesn't stop this young girl from going out, exploring, and having fun.
26. Lola Loves Stories
This series of books about a girl named Lola and her family is really inspiring for preschool-aged girls. Lola creates stories, has adventures, and even teaches her brother to read.
27. Cheerleading Really Is a Sport
In this story, Alicia proves to her brother and classmates that cheerleaders work just as hard as athletes in other sports. It is a very short chapter book.
28. The Cat Food Mystery
A simple short reader in which a young black girl solves mysteries about animals.
29. The Lulu Series
There are six books in the series starring Lulu and her cousin Melly, rescuing animals and going on adventures.
30. One Word from Sophia
A cute book where a little girl learns about negotiation. It includes plenty of new vocabulary terms to help build fluency in young readers.

Angele is a wife to a wonderful creative husband, mother to two beautiful intelligent daughters and lover of art, education and laughter. She is the creator and author of ABC remix