Many of us subscribe for weekly updates on our baby's growth from the moment we know we are pregnant. These email campaigns highlight the various physical, social and emotional milestones we need to look for, while giving us tips on how to encourage our little one's development. Have you ever wondered why parenting websites provide you with these updates every week? I think it's another way to remind us that our bundles of joy won't stay 'tiny' forever! LOL. Every day that my princess wakes up, I have to brace myself for something new that's usually worth celebrating. Suddenly, I'm packing away clothing that she just started wearing. And I certainly can't keep her interested in the toys that captured her attention months ago. So all this growing and changing can easily burn holes into Mommy & Daddy's pockets if we don't take frequent reality checks and reorganize our priorities.
The reality is that your baby is going to grow up. For the first 2-3 years, it's going to happen very quickly. There are many expensive toys that will only get used once or twice; and there are many odd (and seemingly boring) objects that your little angel will develop strong sentiments for. During this special time when your baby grows from newborn to toddler, you need to identify toys and activities that are fun and encourage their development. Yet,  perhaps most importantly, you need them to be free or low-cost. Some great ways to get toys that are free or low-cost are to get crafty and repurpose used items around your home. You can decide whether to use odds and ends you find around your home or to invest a bit of money in some craft supplies to feed your toddler's growing interests.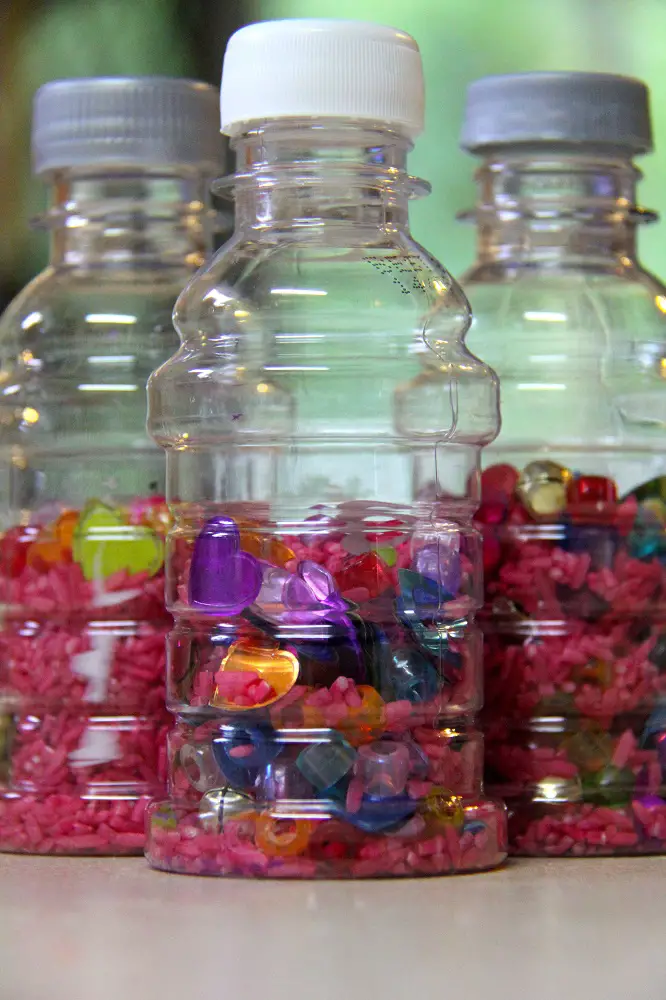 Photo Source: Get Creative With Kids
1. Rattles from Plastic Bottles
My daughter received one as a welcome gift from her 5-yr-old friends. They used an empty plastic bottle filled with beads, buttons, a bell and some colourful bits of paper that they decorated with strips of colored tape. You could also make an Edible Rattle by filling the botle with puffy snacks.
2. Old Electronics
An old remote control,  calculator, or computer keyboard can be cleaned up with all the hazards (small parts, batteries, etc.) removed. You might find that your little one will be less inclined to bang away at your working and newer electronics if they have their own Toy Laptop.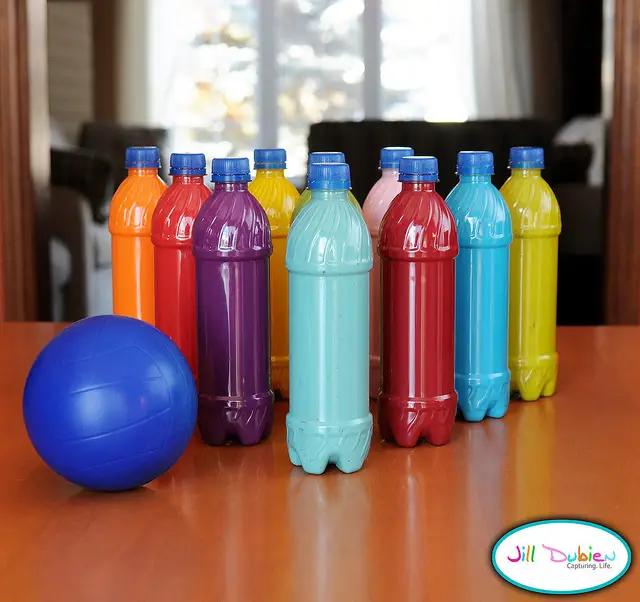 Photo Source: U Create
3. Bowling Set from Empty Plastic Bottles
Whether you decide to paint them or fill them up with colored water, your empty plastic bottles can be transformed into a miniature bowling set.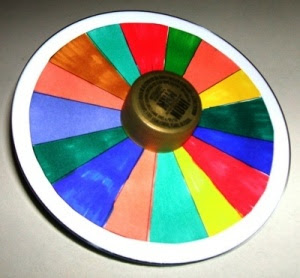 Photo Source: Thrifty Fun
4. Tops from Old CDs
Those old CDs that you got for various devices and software would be so much more useful if you converted them into a homemade top. Just a few marbles and bottles caps are needed. You can have your tiny tot decorate them with some paint or crayons and they'll have fun spinning away.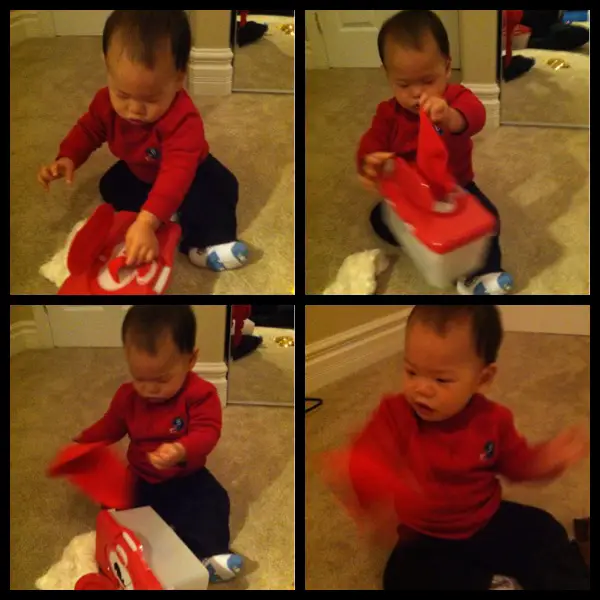 Photo Source: When Hippos Talk
5. Fabric Square Dispenser from Old Cloth Dispenser Box
If you've ever shreaked at the sight of a baby emptying the container of wet wipes or creating a new layer of carpet by pulling facial tissue after facial tissue out of the box,  you will certainly appreciate cutting up some fabric squares and packing them into an empty wipes dispenser.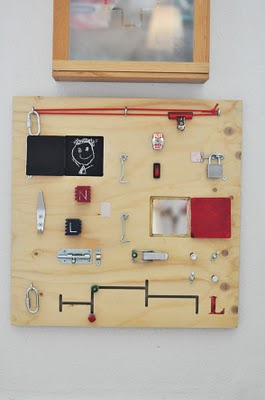 Photo Source: Lilla A Design
6. Activity/Busy Board from Old Hinges, Latches, Bolts and Keys
This is a wonderful way to keep your little one occupied for quite a while and it can be made using simple scraps you have around the house or from knick-knacks you could pick up at your local hardware store. They can be simple and composed of hinges, latches, bolts and keys. They can be very detailed with steering wheels, bells,  light bulbs and switches, or have doors that lead to mirrors, chalkboards and velcro-attached blocks.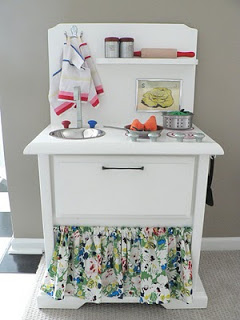 Photo Source: Vintage Songbird
7. Play Kitchen from Old Dressers and Cupboards
I never imagined a homemade kitchen for toddlers until I walked into my daughter's play group one day and saw her 'cooking away'. After I finally put away my camera, I examined the set up and realized that any old piece of furniture could find new life as a baby kitchen with a bit of paint and minor remodeling.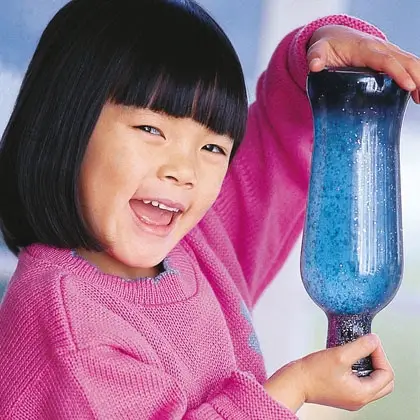 8. Sensory/Discovery Bottles from Old Plastic Bottles
A plastic bottle Glitter Globe will keep your little one fascinated as he watches the sequins, beads and 'magic dust' float around. With discovery bottles, the possibilities are endless.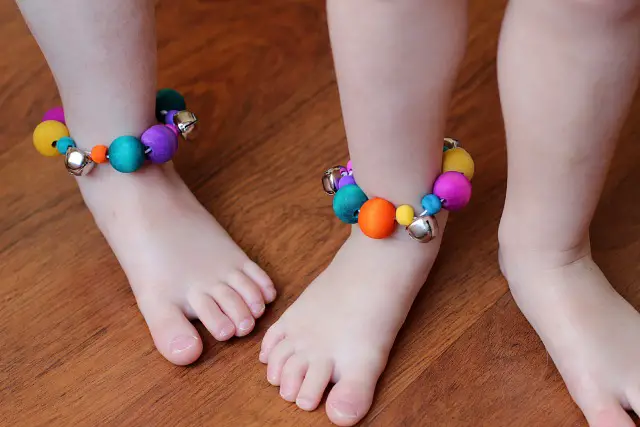 Photo Source: Two-Daloo.com
9. Jingle Bell Ankle Bracelets from Elastic Cords, Beads and Bells
Forget the fancy sneakers that light up and play music when your baby walks in them. With just a little elastic and some bells and beads, you'll soon have bracelets that can be worn indoors or out on the town to make your tiny tot dance until she drops.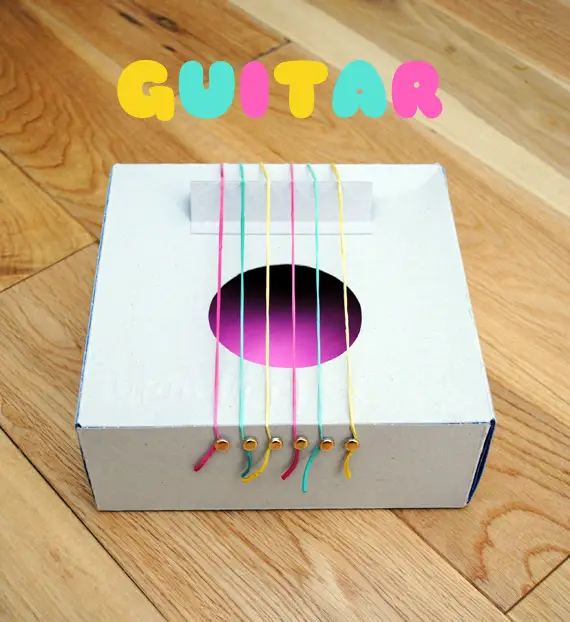 Photo Source: Minie Co
10. Guitar from Old Shoe Box
If you have a little musician and would prefer to build his first set of strings, all you need are an old shoe box, some rubber bands, and thumb tacks. Then,  decide if you want to keep it simple or get really fancy.
The sky is the limit on homemade toys. It all depends on how much money you're willing to spend on craft materials and how handy and artistic you are. It is completely fine to be a 'cheapskate' and give your little one a box with 'airplane' or 'racecar' written on the front. By the time it becomes crumpled and tattered, your toddler will have discovered some new skill or interest that allows you to toss their 'bullet train' or 'helicopter' into the garbage.
Ladies, which of these toys would you attempt to make? Have you made your own toddler toys before?
Didan Ashanta is a natural living enthusiast who blogs at DidanAshanta.com. A native of Jamaica, she currently lives in Tokyo with her husband and 1-year-old daughter.