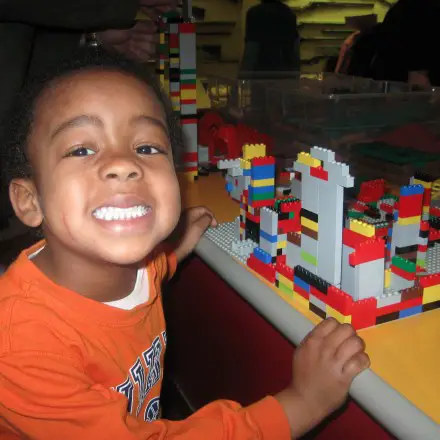 With winter being almost over, kids (and grown-ups!) are bound to be restless.  But it's still too cold for people to be outside a lot.  For kids who are low-key, this might not be the biggest deal, but for active kids, this can seem like torture.  My son is a perfect example.  He loves to be on the go.  Just today, I gave my active son an opportunity to stay from school because it was a half-day.  HE CHOSE TO GO TO SCHOOL.  Being in the house too much drives him crazy, and school is better than nowhere.
You can only spend so much time outside, especially when your kids are young.  And TV's no fun.  So what do you do?  Here are some ideas for activities that will keep even the busiest of kids interested:
Things You Can Do At Home
You don't have to go far to keep an active kid occupied.
1. Sensory Activities: Most kids, especially active kids, love the chance to make a mess.  One place I look for ideas is Pinterest.  Play At Home LLC, a woman-owned business devoted to creating activities to do at home, has a nice Pinterest page. Another nice Pinterest page is hosted by the Kid Blogger Network and focuses on activities for kids with sensory issues.
2. Build, Build, Build!  Kids love making things BIG.  Give them a bunch of scraps from around the house: paper or plastic cups, old paper towel rolls, boxes, straws, pots and pans…you'll keep them occupied for a while.  If you want more formal ideas, PBSKids' Zoom website has a lot of them.
3. Do science experiments.  In addition to building things, you can also do messy experiments.  PBSKids' Lab is a resource for ideas. The bonus?  You get them interested in science.  If you want to make it even more of a lesson, talk to them about Black scientists, so they see themselves as one of a long line of explorers.  A comprehensive list of Black scientists organized by field can be found here. Wikipedia also maintains a list of Black scientists and inventors.
4. Role play.  This one works really well for my son.  With or without a TV, he can take items of clothing and toys and turn them into another world.  If you want to find actual costumes for your kid, check out local thrift shops or stock up after Halloween, when the discounts are deep.
Things That Get You Out The House
Doing things at home will only keep their calm so long.  They need to run!  So when that happens, here are some more ideas.
6. Go to "grandma's" house.  Or someone else in your support network.  Active kids, actually most kids, like new settings.  Visiting someone gives them a chance to be in another space.  It also gives you a chance to chill out and spend some time with grown-ups.
7. Take advantage of play places.  These places are God-sends! You can either go to ones that have paid admission or "free" places like McDonald's or Burger King or the local mall.  In our area, we have a business called Jungle Java that has a few locations. The advantages of the paid places are that they are cleaner, often stocked with healthier food, and generally safer.  The advantage of the "free" places are that they are FREE or low cost (if you purchase a fast food item).
8. Visit the best library in your area.  All libraries are not created equal.  One library might have a small children's section, while another has a huge children's library with toys, play areas, and puppet theaters.  In Michigan, we have a program called MI Library Card, that allows reciprocal library borrowing privileges to member libraries. Chances are, your state has one too.  Even if it doesn't, libraries are open to the public.  They can't stop you from visiting!
9. Go play sports.  There are many places devoted to sports activities: ice skating, roller skating, basketball, soccer, you name it.  Sometimes, these places offer discounted admission and rental, particularly for days where it's not busy.  Explore the recreation department websites for your city and cities around you and do some price comparisons.
10. Buy a kids' science museum membership.  When I first had my son I would have never thought to spend my hard-earned and limited cash on one.  But one day I took him to a science museum, and realized that it cost only a few dollars more to buy the membership, so I did. It ends up being a great place to go when it's nasty outside.  Kids rarely make it through the entire place, so there's usually something new to see.  Even if they do, they end up picking their favorite spots.  When I am low on funds, and the kids are high on energy, it's a free place I can go.  A bonus is that with membership to an Association of Science-Technology Centers (ASTC) affiliated museum, you get free entrance to any member museum that's less than 90 miles away from your "home" institution. And you're supporting local culture! The Association of Children's Museums (ACM) has a similar program, but the entrance is 50% off, not free.
Mamas, what do you do to keep your active child engaged?
Ebony Reddock is a wife and mother of an eight year old and a four year old, as well as a writer, researcher and advocate for mothers.  She blogs at her webpage,  ecreddock.com