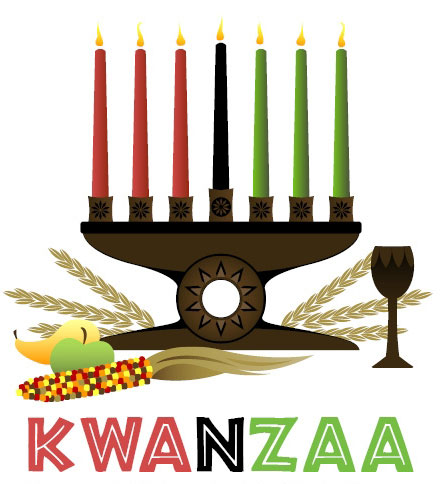 What the heck is Kwanzaa anyway? I am far from an expert, but I have been celebrating Kwanzaa for three or four years, and find it to be an enriching and fun experience for my family. I think it can be a great way for people to come together, can help instill a sense of pride in being part of the African diaspora, and is also also a creative way to communicate important values to your young children. I hope that by sharing what I know about the holiday and how I came to celebrate it, you might become more interested in it and perhaps consider incorporating it into your own family's traditions.
Kwanzaa was conceived by Dr. Maulana Karenga, and first celebrated in 1966. It is not a religious holiday (no worshiping anyone or anything, ) so you can celebrate in in addition to (or in lieu of, ) any other holiday. It begins on December 26th and ends on January 1st. In my home we celebrate it in the evening, but that's just my preference. There are seven principles, a different one associated with each day. These principles are called the Nguzo Saba
The Nguzo Saba are:
Umoja–Unity
Kujichagulia–Self-Determination
Ujima–Collective work and responsibility
Ujaama–Cooperative Economics
Nia–Purpose
KuumbaCreativity
Imani–Faith
Some common tools used in the Kwanzaa celebration include a Kinara (a candleholder specifically for Kwanzaa, ) 7 candles (3 red, 3 green, and one black, ) Kikombe cha Umjoa (a cup for libations, ) and a Mkeka (A mat that the Kinara and all other items are placed upon.) Fresh fruit, dried ears of corn that represent the children in the family, pictures of ancestors, and African art objects are all other things that might be placed upon the Mkeka.
This is the order of events in my household: We start by lighting the black candle and then the corresponding number of additional candles for whatever day it is. I can't remember if you start with a red or green candle, I probably have it written down somewhere in my box of Kwanzaa stuff. ?
Then you have libations, where everyone drinks out of the Kikombe cha Ujoma. After that, we pour water into a bowl while participants call out the names of members of the African Diaspora that are no longer living. They can be relatives, famous people, historical figures–anyone that you and your family want to honor and remember.
After libations, we talk about whatever the principle is for that day. We say what it is, and have a discussion about what it means to each of us. We like to talk about how the principle affects our lives as a family, in our local community, in our country, and the world. It is important to us to remember that we are members of a number of communities, starting with our nuclear family.
Then we say Harambe! three times (Swahili for pull together) and that's the end of the celebration for that night. I usually leave the candles lit for awhile afterwards. But not too long, because I don't want to forget about them and accidentally burn the house down.
That's it; pretty straightforward. I have plans in the future to make our celebration a little more involved with exchanging Afrocentric gifts that relate to each principle, and a feast on the last day. But for now, our more simple celebration works just fine for us. There are numerous resources available if you're interested in learning more about the holiday, or getting other ideas about how to make your celebration special.
Maybe you are wondering how I began celebrating Kwanzaa. Like many of you, I grew up not knowing really anything about it. I would see the occasional sign in a big box store that said Happy Kwanzaa and knew it was supposed to be something African, but in my mind it was just some made up holiday that I was not really that interested in. I was more than fine with celebrating Christmas every year and leaving it at that.
Then one night about 10 years ago, I went to a poetry slam where a well-known community leader was present. He did the libations part of the ceremony for the crowd that was gathered. He also distributed a pamphlet called How Not to Celebrate Kwanzaa. In reading the pamphlet he explained that he chose that title because we often seem to have such a focus on the negative, and enjoy telling others how they are not doing things the right way. He knew that title would probably get more people interested in reading. But the main takeaway that really resonated with me was that it is important to celebrate in a way that makes sense to you, and not let anyone try to tell you how you're doing it wrong. Like one of my favorite MC's Sticman from Dead Prez says, "You can't take from me what you didn't give me."
A few years after the poetry slam, I was at a holiday party for my grad school program. One of the two other black people in my program (yes there were only three of us, but that's a topic for another blog post ? ) was there and at the end of the night, she gave out little bags with seven Hershey's kisses, and a note that explained the seven principles. She invited us all to enjoy a kiss each night. She was a single mom with two young sons and I thought, "That's really cool. I bet this is a great experience for her and her sons. I'm going to start doing this too." A couple of years after that, I got my stuff together enough to get all the supplies, and we started celebrating a year or so before my son George was born.
So maybe reading this article will be your poetry slam, or your Hershey's kiss moment. Changes like this don't usually happen overnight–it's a process. But If you want to celebrate Kwanzaa, do it. And you have my express permission to disregard any noise that might come your way. ?
If you have any questions or comments, please feel free to leave them below. And If you'd like to share some of your family's Kwanzaa traditions, feel free to do that too!
DeAnna is a former psychotherapist turned blogger and stay-at-home mom. You can read her thoughts about race, racism and other forms of inequality on her blog: www.myblackfriendsays.com