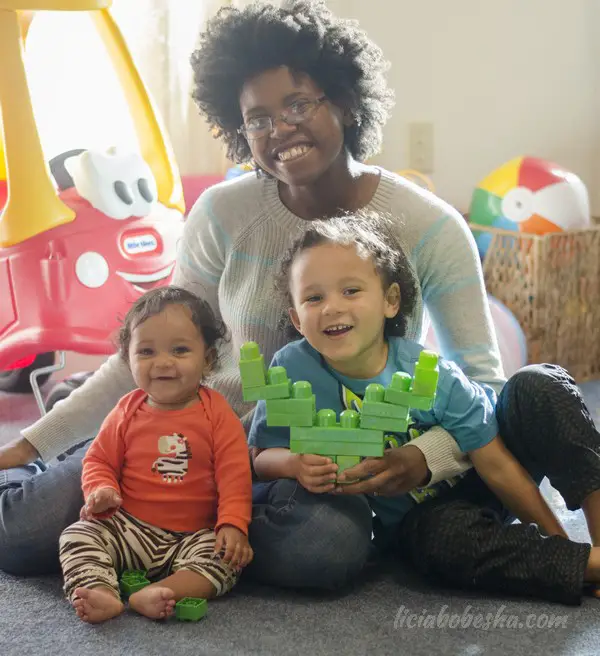 Now over a year into my total life change, I'm still shocked when I look back. Did I really turn down two jobs to stay home with my kids?
I did not go to college and graduate school to stay at home.
The reality is after my family relocated for my husband's career, the offers I received had significant drawbacks. With one job I would have had to commute 47 miles each way. I'd have to leave before child care opened, and I'd get home after it closed. My husband's work requirements wouldn't allow him to do pick ups. We have no family here, so we'd have to hire someone to pick up our child.
I worried what about being so far away during the day while my children were so small. An hour away if traffic agreed is more distance than I felt comfortable putting between me and my children. On top of that, my 16-year-old car would not sustain such a commute, so we'd have to buy a new car immediately, taking on debt and much higher insurance and registration payments.
The other job was in town, but the salary was back to where I started a decade ago. Considering the cost of two children in full time child care, I would technically earn enough to pay for the child care and still have some from my check, but the value wasn't there.
The quality of child care wasn't worth it.
The child care options swayed me. Ideally, I'd like a program where the staff all had at least a Child Development Associate credential. I'd like low staff-to-student ratios of no more than 1:4 for babies and 1:8 for 4 year olds. Numbers higher than this reduce the level of attention even the best teachers can offer. The staff should be well paid and funded so they can provide a play-based program that supports children in all areas of development. Also, diversity of the staff and children and a secular background were important to me.
The preschool option I liked the most was only a 9-month, partial day program, still leaving me the afternoons and summer to fill. The cost was staggering, but quality comes at a price, a price these jobs just didn't leave me the ability to budget.
The emotional cost is hard to measure.
While there were many aspects that I appreciated about my son's previous child care, I hated leaving a little baby for 50 hours a week. With my husband in school, that's exactly what I did. Bills had to be paid. Sacrifices had to be made.
I'm proud I supported my family then, but I'd like my little babies to be with me or at least a relative. Adding on a long commute, I just can't see doing it again. I've had to look at what I am gaining and losing if I accept these jobs versus if I stay at home.
How we're making my being home work.
Right now, what's working for us is scheduling several enriching free and low cost activities during the week. We go to story time at some libraries and at our local children's museum. My four year old also takes a tap, ballet, creative movement class once a week. Plus, we have play dates.
My husband has taken on a part-time remote evaluation job he does from home in addition to his day job. I write, edit, and transcribe during naps and when the children go to bed. I'm still figuring out my schedule, and I don't earn anywhere close to what I earned before; however, I'm hopeful working from home will only become more profitable as I expand my client base.
I've learned that making as much money as possible isn't how I want to live my life. My happiness is defined by activities that enrich my soul. Nothing does that better than spending time with my family and friends.
Frugality pays in its own ways.
We bought a modest home close to my husband's work. This cut our living expenses significantly. We keep driving our 16- and 18-year-old cars that are paid off and inexpensive to insure. I visit 2 to 4 grocery stores in a week to stock up on the best prices. We buy things in bulk such as a quarter of beef which gets us a great price. I cook almost everything from scratch. These things and more save us hundreds of dollars each month.
When added to the cost we're not spending on child care, the comparison between my working outside of the home and my staying home makes staying home the clear winner. Studies show we're not the only ones making this choice as child care now costs more than rent in many places.
With my employment and child care options as they stand, I'm happy with this arrangement. I love what my kids are doing during the day. Many days I am exhausted, but honestly this is the happiest I've been. Keeping a tight budget is a job in itself, and I'm proud of how I'm managing our home. It may not have been the original plan, but I'm hopeful to continue in this direction.