I am a huge fan of unstructured play for my kids. Play is how they learn about themselves and the world, and develop critical thinking skills and self-direction. I got my son started with independent play as early as possible. When he was a few months old I'd scatter a few toys around him and then fade into the background as he explored.
Because toys play a major role in my children's day to day life, it's imperative that our play area (which gets destroyed on a daily basis) be quick and easy to clean and organize. My son's play space is a small 70 square foot area sectioned off from our living room, and it's where he spends most of his time. (At a year old, my daughter is more of a drifter-explorer.)
Before I continue I should note that there are lots of different philosophies on toys. Some parents love them, some don't. Toys are important to me because I live in a cold climate where outdoor play is impossible 4 to 5 months out of the year (ugh, thanks Chicago.) Here's how we keep our play area simple, organized and able to clean up in 20 minutes or less.
1. Our play area is divided into stations.
This not only helps to keep the space organized, it helps my children to be deliberate about their play options. I often witness my son perusing his various 'stations' before settling on what he will engage with. Our play area is loosely divided into puzzles and magnets, blocks, books, soft toys, sports toys, art supplies, rolling toys and Duplos. The bookshelf is further divided into reading books and activity books. We also have a miscellaneous toy drawer for items that don't really fit into any of the categories. The drawer largely consists of toys that were gifted to my kids. When I shop for toys I tend to keep my pre-determined categories in mind.
2. Foam tiles or a rug are a must.
Because my kids consistently spill things and it is much easier to wipe down foam tiles than sweep and swiffer wood floors. Another tip: Get large tiles like these: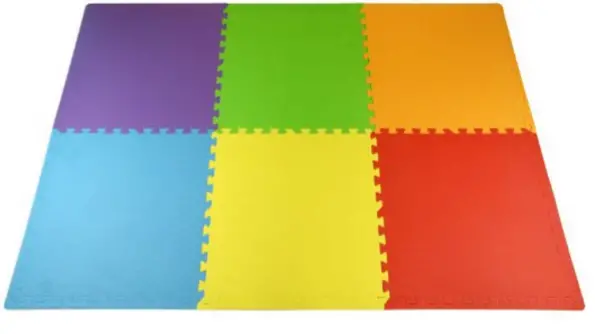 For a long time I had the more intricate alphabet and number tiles, which are really great for familiarizing children with the alphabet.
But cleaning 80+ individual foam tile pieces is a lot harder than wiping down the 12 large pieces I have now.
If you don't want to use foam tiles, put down a rug that you don't mind having juice and crumbs spilled on repeatedly.
3. Purge, purge and purge some more.
I have a 'toy in/toy out' rule. If my son gets a new toy, or I purchase a new toy, an old one is given away. Also, every month I do a sweep to get rid of toys that my kids aren't really using anymore.
4. If my son can't keep track of a toy, he can't own it.
I learned this the hard way after searching high and low for teeny tiny Lego pieces. After a month I realized that expecting a 3 and a half year old to keep track of half-inch toys was pure madness. I quietly confiscated all his Legos late one night. They are in the back of a closet and my son is none the wiser. I will reintroduce them in 3 or 4 years or whenever he signifies that he is able to properly care for toys with small parts.
This tip isn't just about organization, it's also about responsibility. I want my son to learn that he is ultimately responsible for his possessions and I'm unwilling to give him toys that he cannot maintain.
5. The younger the child, the larger the toys.
This ties in with number 4. Tiny toys + young kids = disaster. Not only are they choking hazards, they're a huge clutter risk. Focus on larger toys — blocks, balls, books — that are easy to clean and put away.
6. I don't buy toys frequently.
Children are endlessly creative and don't need much to entertain themselves. There are toys that I bought my son when he was just a few months old that he has reinvented time and time again to fit his needs as he ages. Do not buy toys out of your own needs and desire ('I wish I had that when I was a kid!', 'That toy looks cool to me!', 'I'm feeling some mom guilt, so I'll buy a toy!), but an objective analysis of what your kids actually need.
7. Limit the playroom space and size

My kids' play area is just a small part of our living room we sectioned off. Limiting the space has forced us to think critically and carefully about how we manage it.
8. Smart storage is key.
I've tried a lot of desk/shelf options. So far my favorites are
The Container Store Like-It Modular Drawers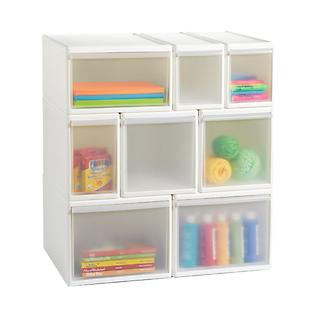 These are interlocking clear drawers you can mix and match to get the shape and height you want. If you build them low to the ground, you can put toys on top that your child can easily access.
The Ikea Kallax Bookcase Cube
I have, like, 3 of these in my house and I use them for pretty much everything. They are a perfect shelf/toy storage option because they are low to the ground and open-faced. Perfect for letting your children pick what they want. You can spot mine in the corner of the first two pics of my son's play area.
9. Open space is key.

My kids need an area to dump out and play with their toys, so I always organize my play area around a central open space. It also makes it easy to spot toys during clean up time. I always put my storage along the edges.
10. I adjust the play area as my children change and get older.
This goes along with number 3. As my children age, I tweak the space and swap out or get rid of toys.
This helps me to figure out smarter ways of organizing things. For example, I used to keep all of my son's 'building toys' (Duplos, blocks, Magformers etc) placed alongside each other. As I realized that building toys are his ossbsession, I've begun consolidating them to save time and space.
What are your tips for keeping your kids' play area organized? Share below!


Leila is the founding editor of Baby and Blog. She splits her time between editing hair and culture site, Black Girl with Long Hair, whipping up butters at BGLH Marketplace, and writing here. She adores her husband and two kids, her parents and her friends. But she hates Chicago weather although she is slowly coming to peace with it...