Traditionally children enter kindergarten when they are five years old and graduate from high school when they are 18 years old.  However these incredible teens are moving along their educational pathway at their own pace.  Check out seven Black students who either skipped high school altogether or graduated from high school earlier than the traditional student.
1. Grace Bush is a young lady that comes from a family of high achievers.  She was homeschooled, along with her older siblings, and was astonishingly able to graduate from college before graduating high school.  (The college ceremony was scheduled before the high school ceremony, but technically she received both her diploma and Bachelor's degree in the same month.) Her mother attributes some of her aptitude to having supporting examples in her older siblings.  Grace began taking college courses at Broward College at the age of 13 and was simultaneously enrolled in high school. After graduation Grace plans to continue her education in pursuit of a Masters degree while preparing for the LSAT.  I am confident we will see her in the history books accomplishing great things.  Go head girl!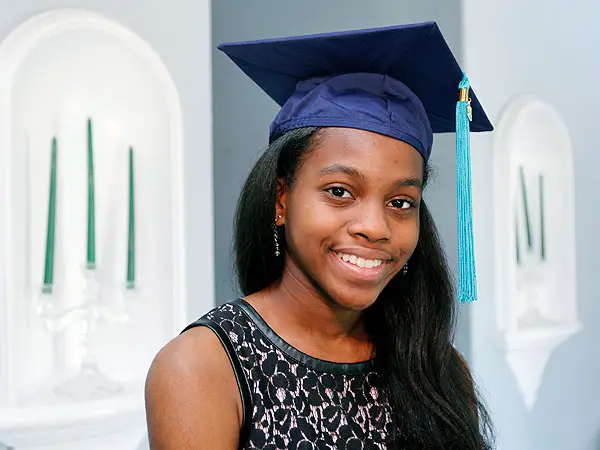 2. Who needs high school when you can go straight to college?  By age 11, Thessalonika Arzu-Embry had enrolled in community college, after having been homeschooled through early grades, and was able to complete her bachelor's studies at Chicago University by age 14 when most students across the USA are just entering their freshman year in high school. Thessalonika says:
"My college experience is a traditional college experience for me — it is just that I have completed it faster, " Thessalonika said. "I am very excited about joining others in having the opportunity to contribute to society in a significant way."
Thessalonika's mother was also a graduate student of the university, and the family plans to open a clinical practice.
3. Mathematics is commonly thought of as a difficult subject to master, and requires developmental stages to happen before children can comprehend certain concepts, but that hasn't stopped Steven Stafford from becoming a Morehouse College student before becoming a teenager.  Steven is a triple major, in computer science, mathematics, and pre-med.  He was kept on track to take advantage of his exceptional abilities by his homeschooling parents.  Steven does not like the term "prodigy" and has this to say about being exceptional:

"At the end of the day, I go home and play video games like a 13-year-old would like to play. I don't think I'm any more special than the next kid. I just learned fast because I had the resources to. My mother is the reason I was able to do that. I'm just using my potential. The only way to know it is to use it. I just love moving forward. I really do. When I slow down, I don't like it. I know I can do better than this, so why slow down?"
4. Martinique Stafford is Steven Staffords sister, who was also homeschooled.  While most 17 year olds are completing their junior year in high school Martinique was completing her freshman year at Georgia Southern University.  At 19 years old she was a Phi Eta Sigma National Honor Society inductee.  Exceptional academic achievement runs in the family.  Major kudos to the Stafford family.
5.  Saheela Ibraheem is a young marvel, at age 15 she had her pick of several top-tier colleges to attend, including MIT, Cornell, Princeton, Columbia, University of Chicago and others.  The exemplary teen settled on attending Harvard at the advice of her younger brother who also wishes to attend the school one day.  Not surprisingly, Saheela had great SAT scores to complement her vigor for academics.  She modestly explains that "anyone who's motivated can work wonders."
The Imafidons are commonly referred to as Britain's smartest family
6.Anne-Marie Imafidon who speaks six languages and at age 10 passed two GCSE's (General Certificate of Secondary Education).  She went on to attend John Hopkins University in Baltimore and got her masters degree from Oxford University, all before she turned 20 years old.
7. Christina Imafidon who is one of Anne-Marie's sisters was the youngest student in history to attend a British university
8. Samantha Imafidon at the age of 6 had passed two high school-level mathematics and statistics exams. She also became the youngest girl in the UK to attend secondary school when she was 9 years old.
Moms, how do you feel about skipping grades?  Are these young people exceptional or just normal kids who had resources,  like Steven Stafford says?
Angele is a wife to a wonderful creative husband, mother to two beautiful intelligent daughters and a lover of art, education and laughter.  She is the creator and author of ABC remix.