When I decided to plan my daughters birthday party I knew we were going to have a Doc Mc Stuffins theme. Â The show was relatively new so there were not that many products out there. Â Now that more people have fallen in love with the show, more ideas can be found online. Â I will share with you some ideas that we used as well as other ideas I found online.
1. Invitations
Check out the Disney family website for free printable invitations and once the party is over, head back to the website to print the thank you cards.
2. Decor
Party City has lots of options for a Doc Mc Stuffins Themed Party. Â Check out their commercial here.
3. Gift Bags
I used clear wrapping, and added few Doc Mc Stuffins toys I found at Dollar Tree, like a maracas. Currently they have these cute little Doc Mc Stuffins flashlight pens that would go great in a gift bag.  I also tried to keep the treats somewhat healthy, so I added little boxes of raisins, organic fruit leather, and cookies w/o high fructose corn syrup. We also included a little first aid kit from the travel section at Target, bubbles, and other small toys.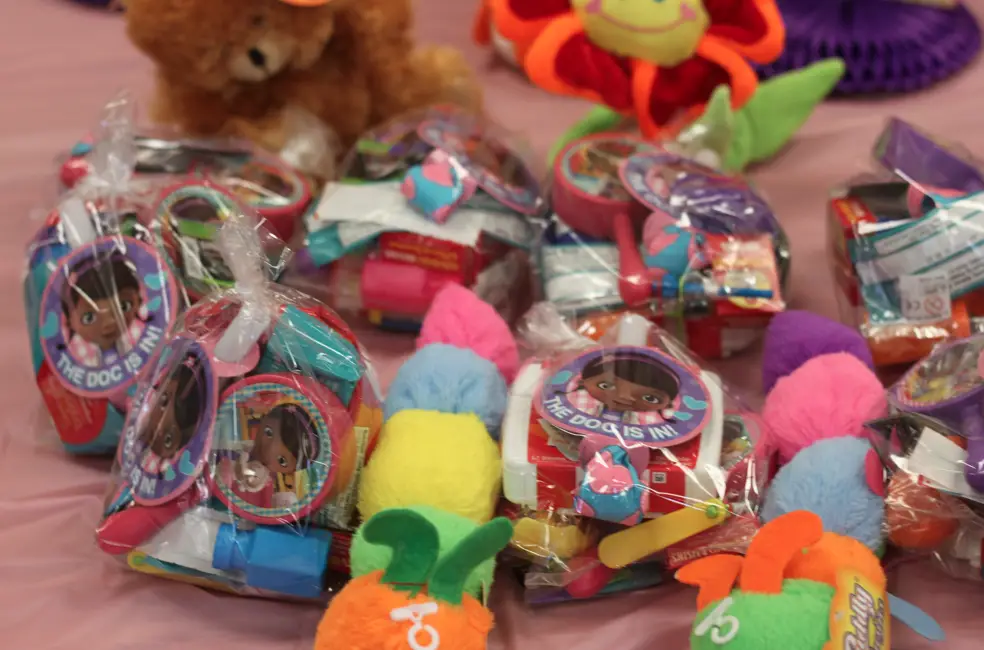 4. Cake
I did not make a cake. Â I went to a grocery store bakery that printed photo cakes. Â I took an image, edited it on Photoshop and had them print it on the cake. Â Easy peasy. Â However looking back at all these neat designs I have seen online, I kinda wish I had made my own cake. Â Check out this tutorial on how to make a beautiful fondu Doc Mc Stuffins cake. Â Also you can make little cake pops, or make cupcakes and add these cupcake toppers.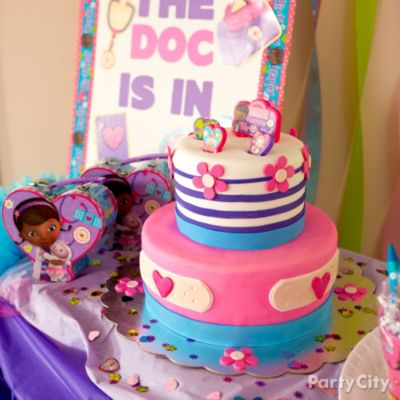 5. Doc Mc Stuffins Character
I am lucky to have a sister who is always down to go all out for her nieces. Â She dressed up as Doc Mc Stuffins to serve as the children's entertainment. Â Although there are many pre-made Doc McStuffins costumes for kids found at places like Target or Toy R Us, and adult costume had to be made from scratch.
The easy things to find were the doctor jacket and stethoscope from a medical uniform store. The headband and tutu were from Claire's and a striped shirt from a local clothing store.  We could not find the polka dot pants, so we took regular stretch pants and used fabric markers to make the purple dots.  I know, I know, the real Doc Mc Stuffins pants are purple with pink polka dots. However using a light color marker on a darker fabric wasn't working.  If you don't have a creative talented sister like mine, you can look into hiring a Doc Mc Stuffins character like this young lady.
6. Games and Activities
Pin the Nose on Chilly — This is a variation of Pin the Tail on the Donkey.  Print out a poster size of Chilly.  We used pom pom balls with tape on the end for Chilly's nose, but you could also use orange paper cut out in circles.  To keep with the theme we used medical masks (from Dollar Tree)  to cover the children's face.  Check out this precious children as they play Pin the Nose on Chilly
Alternatively you could get some Band-Aids and play Make Stuffy feel better, by printing a poster size stuffy. Â Party City also sells a pre-made kit as well.
Â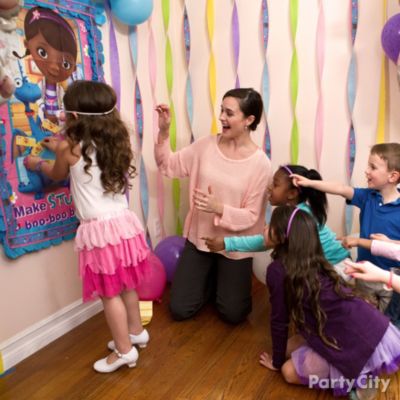 Cotton Ball Tongue Depressor Race — Get a bag of cotton balls and some tongue depressors. Place the cotton ball on the tongue depressor and have children race to see who can make it to the finish line without dropping the cotton.  If you have younger children who may not want to race, you can have each child walk one by one to the finish line like these young children did.
Freeze Dance — Get the kids moving by playing some upbeat songs from the Doc Is In album. Have someone pause the music and tell the kids to freeze.  Each time someone moves when they should be frozen, they are out.  The last child on the dance floor is the winner.
Doctor Role Play — We purchased small stuffed animals for each child from Dollar Tree. Â My sister, aka Doc Mc Stuffins gave each toy a check up as each child brought her their broken toy. Â Each child made up a scenario for what was wrong with their toy. Â Doc gave a diagnosis and a band aid to each toy. Â This was cute and fun. Alternately you could set up a clinic area and have kids give their toys the check up themselves.
In closing, I have seen many variations of Doc Mc Stuffins parties online, and if I were to rank them, this one right here would definitely be number one! Â The level of detail in everything is awesome.
Mommies, have you ever thrown a Doc Mc Stuffins themed party? Â Have you considered throwing one? Â What ideas would you add to the list?
Angele is a wife to a wonderful creative husband, mother to two beautiful intelligent daughters and a lover of art, education and laughter. Â She is the creator and author of ABC remix.

Angele is a wife to a wonderful creative husband, mother to two beautiful intelligent daughters and lover of art, education and laughter. She is the creator and author of ABC remix