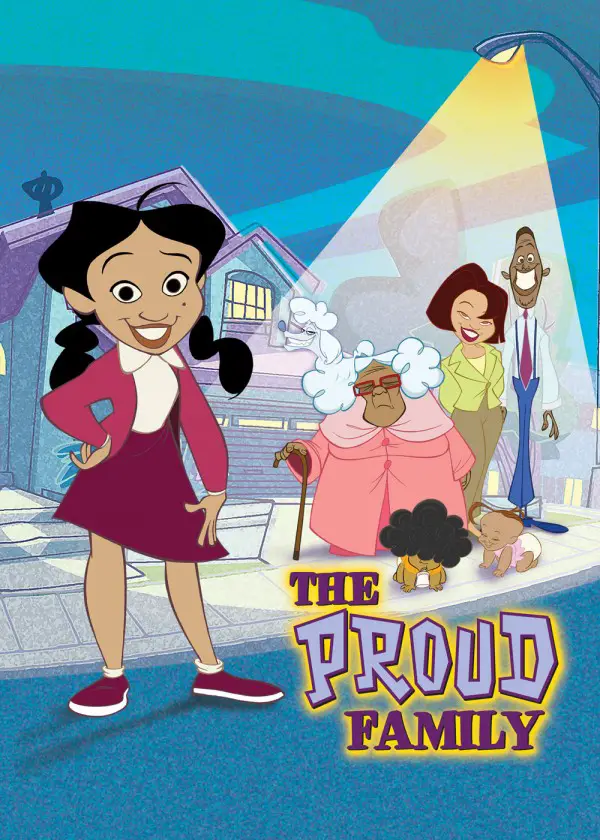 The last time my daughter saw black people, aside from her father and I, we had driven for two hours to attend a birthday party hosted by another Jamaican expat who lives here in Japan. As a black child in Japan, she will be constantly conscious that she is of a different complexion, ethnicity, nationality and culture than all of her friends. I want her to understand that being different doesn't signify that she is deficient — just different. I also want her to find belonging and build her social identity in her ancestry and cultural heritage. I want her to be confident in who she is and proud to be identified by the colour of her skin. Yet, I know that I will have a major role to play in how the process, as she shapes her racial identity; and I know that both racial consciousness and cultural confidence are key elements in the social development of black children everywhere.
When I was a child I never saw many cartoons on TV that featured mostly or completely black characters. However, this was not a significant factor in how I viewed myself or the world, because persons of African descent account for more than 90% of Jamaica's population. Nonetheless, the only memory I have of a black cartoon was the movie,  Bébé's Kids – which my brother, sister and I loved – simply because all the main characters were black. I've since come to understand that many African-Americans disapprove of that film – so, I won't be including it in my recommended list ? Now, my daughter is growing up in 'homogenous' Japan, where most of the other foreign residents are of either European or Asian ancestry. It just happens that the English-language media here, is heavily influenced by the American media and pop culture, making it is very easy for a black child to absorb the negative subliminal messages that are prominent in American mainstream media. So,  clearly,  I was at a loss as to what kind of edutainment I would be able to show to my baby girl. Since she is a toddler, we introduced her to nursery rhymes and she took a liking to the very musical preschool videos from the Mother Goose Club. Although the lead character is a African-American woman, I found myself searching through their Youtube Channel for all the videos that featured black children or adults. This is because,  I definitely want her to see herself in the images and sounds that we use for playful learning time.
My searching has lead me to a treasure trove of vibrant, entertaining and educational material. Many of these cartoons have their own Youtube channels or websites, where you can check out the episodes before buying the DVDs. Some of them are still being aired on television and others are streaming online (for e.g. on Amazon or Hulu). I hope you'll find some favourites for your little one, as I have for mine.
Animated Series:
Tinga Tinga Tales
Description: Tinga Tinga Tales is a British, American and Kenyan children's television series, based on African folk tales and aimed at 4 to 6-year-olds.
Available on Amazon, Hulu and Netflix

Fillmore!
Description: 12-year old Cornelius Fillmore (voiced by Orlando Brown), a juvenile delinquent with a record, was caught raiding the school's new chalk shipment. He was arrested and given a choice by the safety patrol officer who caught him, either help him solve another case or spend the rest of middle school in detention. Fillmore decided to help out and he eventually decided to join up with the safety patrol.
Available on YouTube

Jungle Beat
Description: Jungle Beat is a fun, family friendly series of CGI animated, self-contained, dialogue-free, 5 minute episodes focusing on different animals and the bizarre situations they encounter in nature. From the firefly who is afraid of the dark to the giraffe with a stiff neck, this wholesome series aims to entertain and delight young kids and their families.
Available on Amazon

Static Shock
Description: Fifteen-year-old Virgil Hawkins, harassed at school by a dangerous bully, is transformed by a powerful gas mutagen into a master of electromagnetic energy and decides to use his powers for good … as a superhero.
Available on Amazon.com

Bino and Fino
Description: The Bino and Fino Nigerian educational cartoon was created to give parents looking for genuine African educational content for their children to watch more of a choice. Created by Adamu Waziri, a Nigerian animator and produced by his Nigerian based animation company EVCL, Bino and Fino is an African educational cartoon about a brother and sister who live in a modern day city in sub- Saharan Africa. In each episode Bino and Fino, with the help of their friend Zeena the Magic Butterfly and their family, discover and learn things about the world. The show is for children mainly between the ages of 3 and 6.
Available on YouTube, BinoandFino.com

Fatherhood
Description: Dr. Arthur Bindlebeep is the head of the family and a high school teacher. He and his wife, Norma, try to be model parents while learning a few things from their three children: 16-year-old Angie, 12-year-old Roy and 6-year-old Katherine and their dog Guinness. At the same time, Arthur's own parents, Lester and Louise, still have some lessons for him.
Available on Amazon

Tutenstein
Description: The half-hour series features young mummy Tutankhansetamun (based on real-life Tutankhamun and usually called "Tutenstein" as in the title) who is awakened about 3, 000 years after his accidental death and now must face that his kingdom is gone. Cleo Carter is 12 year old African American girl who enjoys Egyptology. After chasing her cat, Luxor, she accidentally brought Tut back to life.
Available on Amazon

The Proud Family
Description: "The Proud Family" follows the adventures and misadventures of Penny, a 14-year-old African American girl who's doing her best to navigate through the early years of teen-dom. Penny's every encounter inevitably spirals into bigger than life situations filled with hi-jinks, hilarity and heart. Her quest to balance her home, school and social lives are further complicated by friends like the sassy Dijonay, Penny's nemesis LaCienega Boulevardez, her loving, if not over-protective parents and her hip-to-the-groove-granny, Suga Mama.
Available on YouTube, Daily Motion

Tsehai Loves Learning
Description: Tsehai Loves Learning is an Ethiopian childrens TV show. The characters are puppets and animated characters speaking the local language of Amharic.
Available at Tsehai.com

Doc McStuffins
Description: The series chronicles a six-year-old girl named Dottie "Doc" McStuffins who decides she wants to become a doctor like her mother. She pretends to be a doctor by fixing toys and dolls. When she puts on her stethoscope, toys, dolls, and stuffed animals come to life and she can communicate with them. With help from her stuffed animal friends – Stuffy, Hallie, Lambie and Chilly – Doc helps toys "feel better" by giving them check-ups and diagnosing their illnesses with "The Big Book of Boo Boos". Each 11-minute episode includes original songs.
Available on Amazon and Disney Junior

Happily Ever After: Fairytales for Every Child
Description: Each episode details a classic fairy tale, but in the style of greatly different cultures with characters voiced by famous actors, comedians, singers and political activists of varying cultures, backgrounds, and ethnicity.
Available on Amazon

Little Bill
Description: The stories are based on Bill Cosby's Little Bill book series, set in Philadelphia and feature Bill Jr. learning a lesson or moral. It was developed through research and in consultation with a panel of educational consultants.
Available on Amazon

Abeba and Abebe
Description: Abeba and Abebe is the first ever animated series to be made in Ethiopia by and for Ethiopians. It is aimed at an audience of 6 – 12 year olds
Available on YouTube

Animated Short Films:
The Legend of Ngong Hills
Description: The Ogre, who has a habit of attacking the Maasai Village, falls in love with the beautiful young maiden Sanayian. Based on a Maasai folktale, this animated short film produced by the Apes in Space studio in Kenya won a 2012 African Movie Academy Award for Best Animation.

Sule and the Case of the Tiny Sparks
Desscription: In a young African girl's quest to learn the meaning of the proverb – Great Fires Erupt form Tiny Sparks – she seeks guidance from the proverb detective, Sule.

Bouba & Zaza Protect the Earth
Description: A cartoon based on UNESCO Dakar's children's books collection.

Wayans Family Presents: A Boo Crew Christmas Special
Description: It is Christmas time in "Boo" York, and D-Roc, Dee Dee, Chad, Slim and the entire Boo Crew discover the true meaning of Christmas.
Available on Amazon

Koi and the Kola Nuts
Description: In this humorous African folktale, Koi wants the villagers to honor him as befits the son of a chief. But unless he can accomplish three impossible tasks, he will end up in the cooking pot instead. His problems begin with a scrawny Kola tree, and they end when three unlikely new friends who help him find his rightful place in the world.
Available on Amazon

Animated Feature Films:
Kirikou and the Sorceress
Description: Drawn from elements of West African folk tales, this movie depicts how a newborn boy, Kirikou, saves his village from the evil witch Karaba. It was so successful that it was followed by Kirikou et les bêtes sauvages, released in 2005, and adapted into a stage musical, Kirikou et Karaba, first performed in 2007. Another followup, Kirikou et les hommes et les femmes, was released in late 2012.
Available on Amazon

Kirikou And The Wild Beast
Description: The film is a sub-story to Kirikou and the Sorceress rather than a straight sequel. The movie is set while Kirikou is still a child and Karaba is still a sorceress.
Available on Amazon
The Princess and the Frog
Description: With a modern twist on a classic tale, this animated comedy is set in the great city of New Orleans. Featuring a beautiful girl named Tiana, a frog prince who desperately wants to be human again, and a fateful kiss that leads them both on a hilarious adventure through the mystical bayous of Louisiana.
Available on Amazon

The Proud Family Movie
Description: Penny goes on a family vacation to the tropical Legume Island instead of celebrating her 16th birthday with her friends. It turns out the island is full of mysteries and Dr. Carver lures them in hopes of stealing her father's secret formula and take over the world.
Available on Amazon

The Golden Blaze
Description: The bond between son Jason Fletcher and father Gregory Fletcher, known throughout their town as "The Fletcher Flops", strengthens after an accident with one of Gregory's inventions grants him the superpowers of Jason's comic book hero, The Golden Blaze.
Available on Amazon

Mommies, do you have any animated shows to add to the list?
Didan Ashanta is a natural living enthusiast who blogs at DidanAshanta.com. A native of Jamaica, she currently lives in Tokyo with her husband and 1-year-old daughter.