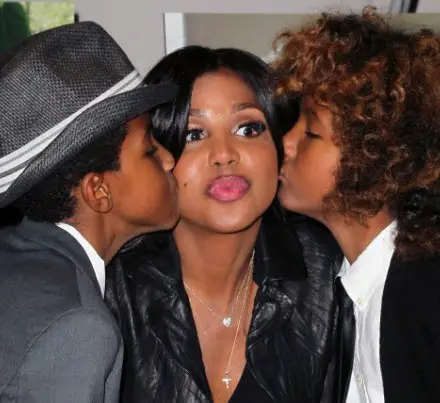 Toni Braxton with sons Denim and Diezel
As Toni Braxton does the promo rounds for her new memoir Unbreak My Heart she is speaking more about her life as a mother and entertainer. She's already shared about her secret abortion, and last week on the Queen Latifah Show she shared that her 11 and 12-year old sons are required to pay for rent and utilities;
They get ten and twelve dollars a week, and one pays me two dollars, the other pays me three dollars. Seventy-five cents for gas and electric and fifty cents for cable and things like that… Just so they can understand the value of a dollar and they can understand that when you get older and have to leave, you have to pay bills. It was a shock to me when I found out I had to pay bills, like, 'What do you mean rent?!' So I thought I should instill that into my little boys.
You can watch the video here;
Personally, I don't think it's a bad idea! Money management is an important life skill to teach children, and you can never start too young. What are your thoughts ladies? Do you disagree with Toni's tactics? Why or why not? How do you teach your children about money management?