I post about Yaya alot on my hair blog (because, I mean, just look at her hair!) but it's so cool that she's also a black breastfeeding mama ?
A few weeks back Ashley Nicole, a model and wife of pro-football player Philip Wheeler posted this beautiful breastfeeding photo with the caption
Was on the way out the door but then mommy duty called… Everything stops for him! #breastisbest #natureisbeautiful.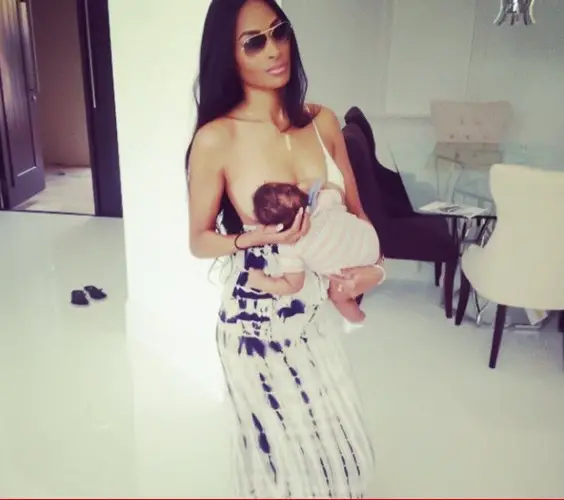 She was met with very sharp criticism from internet commenters, who called her everything from inappropriate to disgusting.
Since then, breastfeeding supporters have mobilized to show support for Ashley, and for breastfeeding itself. Yaya showed her support by posting this pic with the following caption;
i know i'm mad late, but i haven't been on the computer much lately. just heard about the uproar over @ash3nicole pic & had to post a copycat photo in solidarity. hope you don't mind, beautiful sistren. i'm so proud of you and stand by you! #breastisbest #whattheyaremadefor #getoverit #mamasunite #movement
The following day she posted another picture with the caption
hubby was like "you can't see your face!" re: yesterday's picture. so here's the other version. why not post #oneaday? vitamins for society! #normalizenursing
All 3 of these photos are absolutely beautiful to me. Hopefully they help raise awareness of the fact that breasts are FUNCTIONAL. They do not exist just to bring pleasure. They exist to feed and nourish our babies.
Mommies, what are your thoughts?

Leila is the founding editor of Baby and Blog. She splits her time between editing hair and culture site, Black Girl with Long Hair, whipping up butters at BGLH Marketplace, and writing here. She adores her husband and two kids, her parents and her friends. But she hates Chicago weather although she is slowly coming to peace with it...