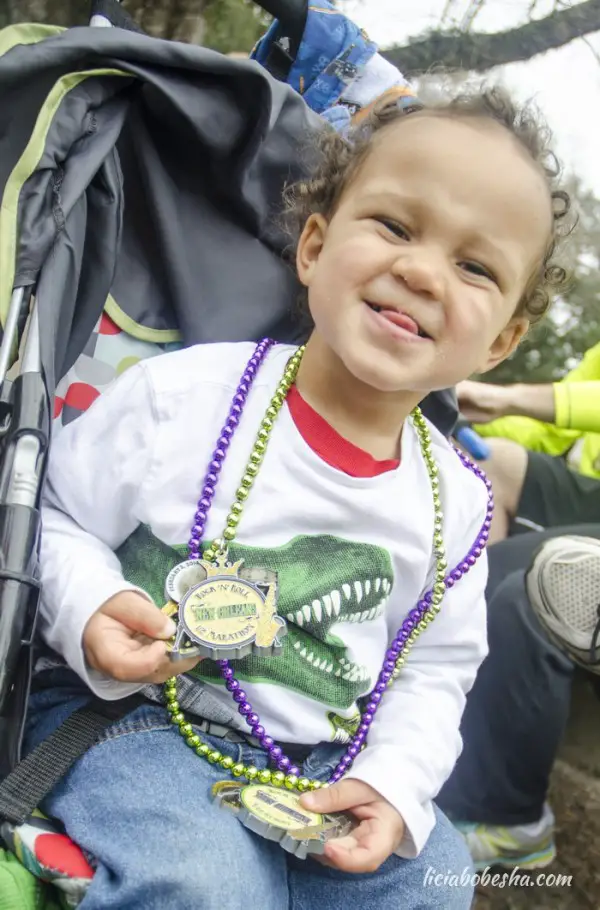 By Alicia Barnes,  liciabobesha.com
Being a mother is exhausting. From those early weeks of seemingly nonstop nursing to this demanding toddler time, I'm not always able to find the energy, time, and motivation to make work out like I want. Thinking about these 10 things help keep me moving even when the couch is calling.
1. Setting an example of health
I want my son to see that I value myself and my health, so I work out with him in mind, knowing I'm setting an example. As I totally teared up as he lit up when he saw D coming in for the marathon finish. He started yelling "Go Daddy! Run Daddy!" D who before he spotted us looked so tired, got the biggest smile on his face and ran over to us and gave him a high five. Our son is pictured above loving our race medals. He is the best encouragement. We owe it to him to be healthy.
2. Better mood to handle big emotions
Few things in life compare to that endorphins rush of runner's high. It clears my mind, helps me let go, and enables me to be a better wife, mother, and friend. The world just feels better after a run. Tapping into this bliss has helped me sail through teething, growth spurts and now the terrific twos that have left my son often face down on the ground in public. I credit working out
with being able to not get bogged down in big emotions, but to be able to hug, kiss, laugh, and let go.
3. Building in much needed me-time
Running is something I usually do by myself. As a mommy that precious time to just be is priceless. The diapers, the snacks, the books, the whining can wait. I get to listen to what I want to listen to and see what I want to see and put myself first for a bit. Even in a gym class with 30 other people, I'm moving, I'm dancing, I'm having fun without wearing the mommy nametag, and it's pretty awesome.
4. Taking family trips for races
So far my son has been to Indianapolis and New Orleans for running trips. If all goes as planned, he'll see the whole country this way. I like to travel and to visit friends. Running races gives me a destination to plan around and something to focus on while I train. The race gives a nice structure to the trip. As a life goal, my husband and I hope to complete a race in every state. Most races have a kids fun run event, so our kids will get to join in. We've got a lot of miles and awesome trips ahead of us as long as we keep going.
5. Getting natural Vitamin D while breastfeeding
Since we don't buy fortified milk and since artificial vitamins are insufficient, I try to get as much natural sunlight as I can in regular intervals to get a daily dose of Vitamin D which is necessary for properly absorbing nutrients such as calcium and iron among other important processes. Since my son was exclusively breastfed and as we've continued nursing, I've known it's my responsibility to make sure my intake of Vitamin D was sufficient. I run because people were meant to get Vitamin D from the sun and it gets me outside throughout the year when otherwise it'd be too cold if I weren't sweating. I also love yoga outside in the spring and fall.
6. Lowering my cholesterol to be around longer and healthier
I've been told a time or two that I must be nothing but skin and cholesterol. Likely due to genetic causes, my numbers are extraordinarily high. With running and dietary changes, I was able to drop it 30 points without drugs. I work out to naturally reduce my risk for heart disease to prolong but the duration and the quality of my life so I can enjoy my time with my family. Also knowing it's likely genetic, my kids have a good chance of having the same problems, so I want them to see their options for managing their health.
7. Being happy with what I see in the mirror
During my pregnancy, I gained a lot of weight, nearly a third of my pre-pregnant self. While I'm stuck with some things with this mama body, weight and tone is something I'm in complete control of. When I look in the mirror, I'm proud of the many days when I chose to work out. I know it's in right now to just like working out because it makes you feel good and all, but honestly, I'm really motivated by being thin. Working out helps me be happy with myself.
8. Teaching to think about calories in / calories out
From our calorie counting days, I learned that while calories in, calories out isn't a perfect measure, it's pretty accurate. Running balances out my splurges like that box of lemon girl scout cookies I bought last weekend. I like being accountable for what I eat and having a way to help even out the score. We talk about that balance, so it's not a mystery.
9. Fighting and preventing the blues
When the days get short and cold and I spend way too much time inside, I am not my best self. I am low. I am negative. I struggle to let things go…until I go run. Research shows that exposure to sunlight affects serotonin levels and helps fight Seasonal Affective Disorder. More than just cold weather depression, I find working out helps keeps me level year round. I know that starting back at the gym helped me handle the surge of postpartum hormones and emotions. It made me feel strong and balanced in a time that can be filled with worry and doubt.
10. Keeping stress levels down
Being a mommy can be stressful. Little ones have a lot of needs. I have a lot of needs. Seeing my husband through his PhD process has been a 9-year drain on us all. Whenever I notice my patience is too short, I'm grinding my teeth, or I can't stop focusing on the negative, I know I'm overdue to go work out. Cardio, yoga, and weights keep my stress levels in check, so I can actually get things done and enjoy my life regardless of how crazy it can be.
How do you motivate yourself to work out? 
***
Alicia lives in a small college town that often challenges her resolve to live as simply and as stress-free as possible. When she's not working, rereading the same children's books, cooking, or wondering how crunchy she's become, she's busy updating her site,  liciabobesha.com. You can follow her on facebook.