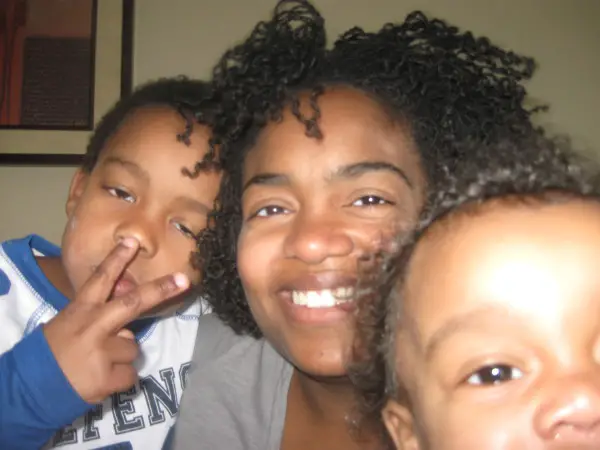 Meet, Ebony, one of our new Baby and Blog writers.
Tell us about your life.
E: I live in Michigan, in a rural town an hour from Detroit.  Currently,  I work part-time for a university doing policy advocacy work promoting the interests of Michigan women living in or near poverty.  I recently finished my PhD in public health, where I focused my research on African American mothers and stress.  My life passions include my faith in Jesus, my family, supporting women, writing, reading, music and crafts.  All these things sustain me emotionally and spiritually.  I have two kids, Mark, who is eight, and Maya, who is four.  My husband's name is Mark.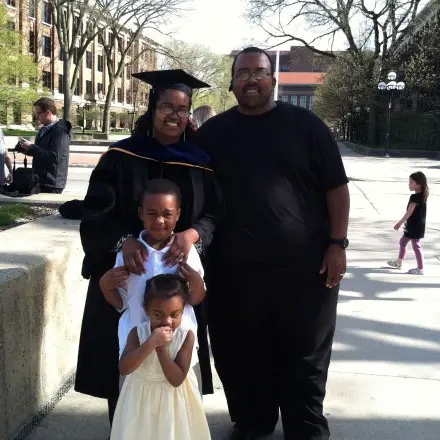 Tell us about your kids!
E: Both my kids are pretty precocious, always saying something that seems beyond their years.  Mark is always "on", ready to go on an adventure or the life of the party.  He's also sensitive and kind.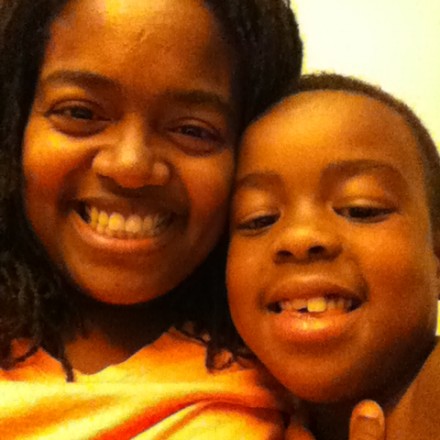 Maya is quiet, low-key, and thoughtful.  She has an infectious laugh and loves to cling to her parents and her brother.  If it were up to her, she would just stay home with family.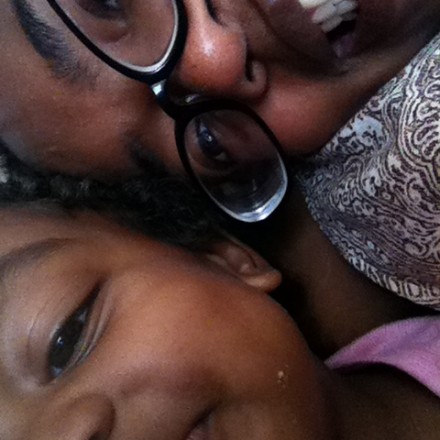 How were your births?
E: My kids' birth stories are as different as their personalities.  When I was pregnant with my son, I was a single woman working full time and going to school.  My water broke three days after I went on maternity leave.  I didn't start contractions until I agreed to getting induced with Pitocin, which is no joke!  My  delivery room was full of folk–my girlfriend, my good male friend and my son's father (now my husband) and others who came to visit off and on. After 6-7 hours of Pitocin-induced contractions and multiple attempts to cope with the pain (walking, shower, ball), I agreed to sedation.  After that, I couldn't bring myself to go back to the pain and got an epidural.  Finally, 27 hours after my water broke, I hadn't dilated past 4cm.  I agreed to a C-section.
My daughter's birth was very different.  I knew I wanted to be a VBAC, so I chose a nurse-midwives' office.  Like now, she was clingy.  On my due date, I was not close to delivering, so I had my membranes stripped. The next day, the contractions started.  After laboring all night, my then-fiance and I went to the hospital where the midwife eventually sent me home with sleeping pills and a guess that I'd be back later that evening.  I went home, ate lunch, took a pill, and went to sleep.  I woke up four hours later to my water breaking and in intense pain.  This time, I was admitted by the same midwife.  "Told you you'd be back!" the midwife chuckled.  I got an epidural, but before it kicked in fully, I delivered my daughter vaginally, less than two hours after being admitted.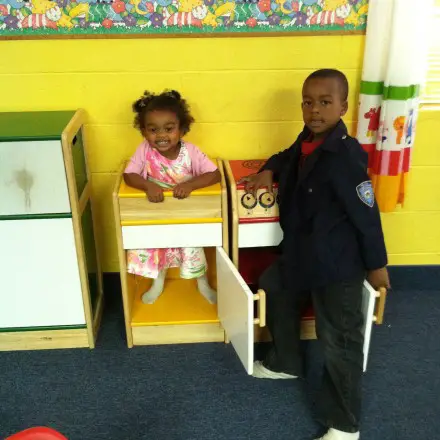 I have no regrets about either of my births, because I believe they happened as they were supposed to.  They also provided valuable lessons about parenting–sometimes it won't end up like we'd expect.  That has been a struggle for me.
What is your biggest parenting challenge?
E: Right now, my biggest challenge is patience.  My son has ADHD, which can be demanding.  He is very energetic.  I always say my daughter has the best big brother, because he's always down for playing or imagining.  But I am an introvert, and so I need quiet time and space sometimes.  It's hard to get that, and when I don't, I get irritable and short-tempered.  But I am learning to be proactive, taking time when I need it, before it gets intense.
Who is your child-rearing support group?
E: That's especially important because I am managing a lot–raising two kids while working and taking care of a household keeps me busy.  More and more, I try to be present as much as possible when I am with my family, because I am so busy with work sometimes.  I also rely on my sisters in Christ, my biological younger sister, and my mom for support.  We encourage each other, even keeping each others' kids when we need a break.  Sometimes mothering is hard, but focusing on why I do it is important.
What is the most important value, ideal or philosophy you want to impart to your children?
E: Ultimately, I want my kids to put Christ first.  If they do that, everything else will fall into place.  They will be caring, loving, considerate, responsible, family-oriented and willing to stand up for what's right no matter the consequences.  That makes the stressful times worth it.
What advice would you give to a new mom?
E: If there was one bit of advice I'd give a new mom, it'd be this: take care of yourself because only then  can you take care of others.
Ebony Reddock is a wife and mother of an eight year old and a four year old, as well as a writer, researcher and advocate for mothers.  She blogs at her webpage,  ecreddock.com