Introduce yourself and your kids.
S: My name is Stacy Williams-Cobb and I currently live in Knoxville, TN. I am a stay at home mom. I have 2 children! Tarrance Christian is 4 years old and Amar'e JaKobi is 8 months old.
How would you describe your boys?
S: I would describe my children as being very predictable, sometimes sneaky (my oldest) and very interesting to be around!! I would say Christian loves his daddy and AJ loves his mama! I tell you one thing, they love to be around each other!!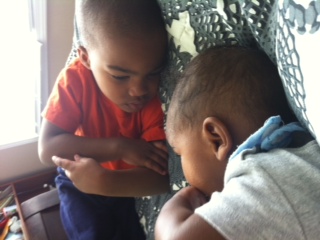 What is your birth story with AJ?
S: My birth experience is simple…my water broke at home around 6:00am. The first thing I could think to do at that moment was to call my parents and mother in law to let them know since they have a 6 hour drive to TN (they live in MS). Was at 4 cm dilated, but stayed that way for 8 hours straight!! After 15 hours of walking, being on a birthing ball and crying to Jesus, I was able to push out a 6lb 14 oz baby boy!
Do you breastfeed? If so, why?
S: I breastfeed my son. I do it because I wanted to make sure AJ became a healthy baby, reduced risk of postpartum depression, free milk, no trial and error like you have to do with formula, and I also like to see the looks on people faces when I tell them I breastfeed and like to flash! Lol Breast is best!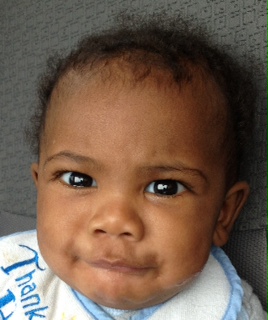 How do you balance breastfeeding and managing your household?
S: Plain and simple…house work is put on a back burner if I am breastfeeding unless my husband is at home, then he pitches in to help. But I have mastered multitasking since I decided to breastfeed too! For instance, I have vacuumed and breastfed AJ at the same time! (Don't ask…I know it's hard to believe!)
When you were working how did you balance work and being a mom?
S: I worked when I only had one child and it was tough at first. I had to get adjusted to getting someone else ready besides myself, and my work didn't just stop at 5. I had to switch from work mode to mom mode once I picked up my oldest son and start preparing my mind for the next day. It was a challenge, but I made it through!
What is your biggest parenting challenge right now?
S: My biggest challenge right now is getting AJ to sleep through the night and my oldest to go to bed before 2 am!
How do you determine that your child is thriving?
S: I know my child is thriving because I have the opportunity to witness him and his brother tackle milestones without any problems or concerns.
How do you carve out time for yourself?
S: I RARELY get time for myself…unless they are both sleeping (rare, or late at night), AJ decides to tolerate my husband, or if I'm working out. I doesn't come easy I tell you!
How does your husband contribute to child-rearing?
S: My husband contributes by helping me out a lot with Christian and making sure his needs are met. He helps with discipline, and to basically call authority. I think the kids know that I am a little softer than him, so they come to me when something is wrong.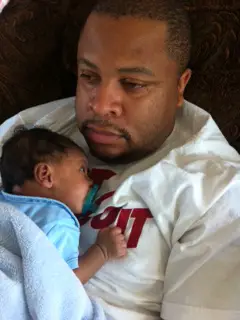 Who is your child-rearing support group?
S: My family, pediatrician, Google, and whoever has any advice for me!
What advice would you give to a new mom?
S: Ask God to bless you with patience and an open mind! You're gonna need it.