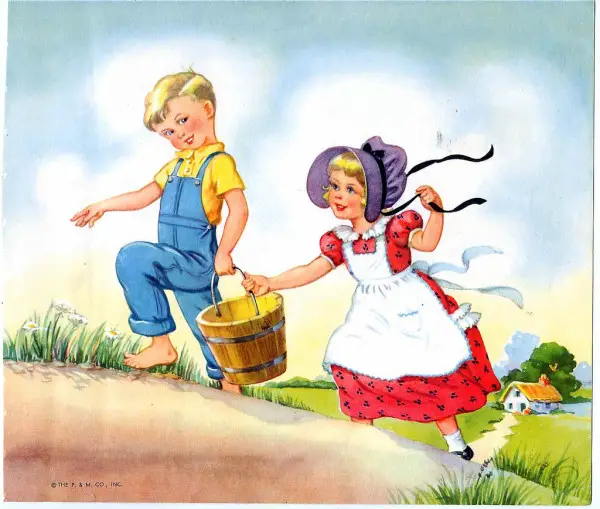 My Grandfather had just arrived home from a long day at work and sat down in his favourite spot on the verandah. Of course, I quickly climbed into his lap to snuggle up with my book of nursery rhymes. He read them so eloquently, rounding his mouth as he carefully fed the rhythmic words to my ears. My eyes bounced in rhythm from the curvy letters to the colourful illustrations on the pages.
These are some of the earliest memories of my life – Grandpa reading nursery rhymes to me. So, it felt quite natural to hold my newborn's tiny feet and recite, "This Little Piggy" – until I got to the part about a pig eating the flesh of a roasted cow! Why hadn't I noticed before, that a roast beef sandwich was being consumed by another farm animal? I quickly changed the lyric to "roast yam" – since it's a popular Jamaican dish and fit well into my family's plant-based diet. But, I still had more of these poems and songs to scrutinise in the weeks and months to come.
Picking Apart Nursery Rhymes
A nursery rhyme is a traditional poem or song that's designed for young children. The ones I grew up learning originated in Britain (since Jamaica was once a British colony) and they included riddles and proverbs. Some of them recorded historical events, English customs and superstitions, while others were tongue twisters,  memory aids and ring games. These nursery rhymes have effortlessly stayed with us for centuries because they are included in many early childhood school curriculums, and not without good reason. They are excellent tools to aid in optimal child development particularly because they are based in music and rhyme. Activities that include both music and rhyme will build your child's spatial reasoning ability, which is the springboard for their success in the STEM fields. They benefit your child's numeracy development, since many, like "1, 2 Buckle My Shoe",  include counting and logic, like "As I Was Going To St. Ives". The hearing or recitation of some of these songs and poems may be the first activity to introduce numbers to your little one, and most likely in a fun and entertaining way.
Nursery Rhymes may also be used as memory aids, because they are repetitive and predictable; and mnemonic rhymes like "Thirty Days Hath September", are still used by adults to recall common info from day to day. Yet, the most obvious benefit (and my primary reason for sharing nursery rhymes with my baby girl) is the development of literacy and language skills. Children's poems and songs are filled with new vocabulary, rhythm, pitch and literary devices, like alliteration (e.g. "Peas Porridge Hot"), onomatopoeia (e.g. "Old McDonald") and rhyme (e.g. "Twinkle, Twinkle, Little Star"). 
So, you may come across the ideas that children who have memorised 8 nursery rhymes by age 4, will become excellent readers and spellers. Though the exact amount of rhymes is probably irrelevant, the connection between rhyming activities during early child and reading skills during school years, is clear. There are more benefits that can be derived from feeding our little ones these songs and chants, but we also know the words and backgrounds of some of these catchy rhymes aren't all kosher.
Sinister & Negative Rhymes
Many of Britain's traditional nursery rhymes are said to have sinister backgrounds. Some are thought to be satires about periods of political or religious upheaval,  while others are the retellings of local scandals. I'll go over a few of the possible tales that generated some of our favourite rhymes:
Peter Peter Pumkin Eater – A jealous husband kills his wife and stores her dismembered body inside a hollowed out pumpkin shell after he was unable to keep her control her promiscuous and adulterous behaviour.
Lucy Locket – A bar maid dumps her pocket sugar daddy, but gets into a brawl with another prostitute after the latter takes him on and brags about her fortune in finding him.
Ring Around the Rosie – Millions of children die during the pandemic called the Black Death. There are so many bodies that burials are too burdensome, so they are collected and cremated amass. The ashes blow everywhere.
Mary, Mary Quite Contrary – A zealous queen tortures and slaughters subjects who chose a different religious denomination from her, filling her garden graveyard with them.
Georgie Porgie – A court gentleman has affairs with the wives of other gentlemen of the court, and sometimes his exploits are not consensual or welcomed by the women.
Three Blind Mice – The 'bloody' queen found out that a trio of men did not approve of her religious persecution and decided to treat them to her specialty of torture and death, for their lack of vision.
Old Woman Who Lived in a Shoe – Although there is a political backstory, the plain reading is still disturbing. Since she is unable to care for her many hungry children, she gives them flavoured water and ensures they feel the weight of her hands.
Jack & Jill – Some point to the beheading of a King and his Queen, while others refer to the King's request for an increase in the liquor tax which was denied. The sly monarch responded by halving the volume of a Jack (2.5 fluid ounces) and, inadvertently, a Gill (2 Jacks or 5 fluid ounces).
If you do just a little research you may find supportive arguments for these backstories and also arguments declaring they are just pure, nonsensical lines. There's a Jamaica proverb which says, "Ef anoh soh, a nayli soh" which translates to, "If it isn't the truth, it's very close." So,  it is up to each person to decide whether these verses are coded historical narrative, covert protest and propaganda, or feel-good tunes to aid a child's learning. Either way, rhymes and music are key tools for child development. So, we can either sift through the rubble and teach our little ones the old British nursery rhymes we approve of, or opt for other rhythmic songs and poems that will just as easily do the job.
Didan Ashanta is a natural living enthusiast who blogs at DidanAshanta.com. A native of Jamaica, she currently lives in Tokyo with her husband and 1-year-old daughter.