1. Diana Ross
It seems that baby bump photos have been all the rage recently in pop culture.  It was very difficult to find classic pictures like the one of the beautiful Diana Ross.  She looks so beautiful as she poses in a simple purple gown, holding a summer hat.  Also, how awesome is it to see Diana Ross in a floral wrap, ready to take a dip in the pool?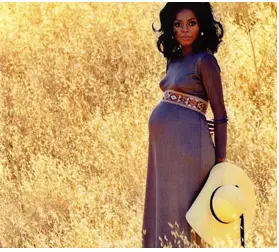 2. Jourdan Dunn
Back in 2009, when model  Jordun Dunn was pregnant, she wore a brown padded dome over her baby bump in Jean Paul Gaultier's spring fashion show.
3. Kelly Rowland
Recently there have been rumors of Kelly Rowland being pregnant.  Although the soulful singer still has a relatively flat tummy, she has been known for her muscular toned abs, and the media has been dissecting her recent choice of outfits.  The singer/actress used Instagram to communicate that she is expecting a child.  Congrats Kelly! Check out Kelly in her divalicious pant suit and loose top at the Thing Like a Man Too premier and showing a little skin in a black bra top and skirt at the Billboard Music Awards.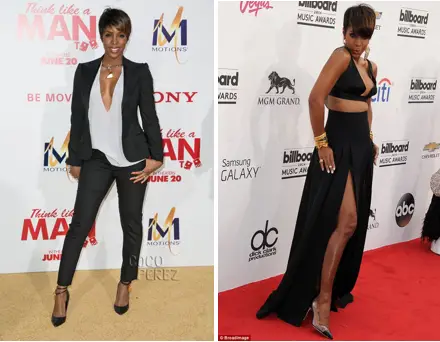 4. Kerry Washington
Kerry Washington gave birth last month, and she showed us how to style your baby bump on the red carpet during award season.  At the Golden Globes Kerry wore a ultra light mint green-hued custom Balenciaga dress.  She looked very classy and elegant. At the Oscars she wore a lavender Jason Wo gown.  She took a different angle and covered her baby bump at the Directors Guild Awards when she wore a bell shaped Oscar de La Renta black and white dress.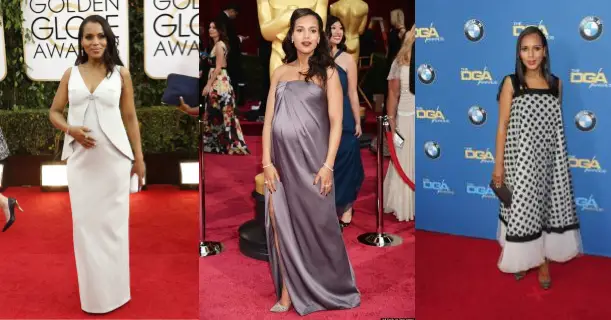 5. Jennifer Hudson
Jennifer Hudson looks beautiful with her baby bump as she sang her heart out and mingled at a party in loose fitting white dresses.
6. Alicia Keys
The classically trained pianist and vocalist showed her baby bump in a two piece bikini as well as a long T-Shirt for her non profit organization.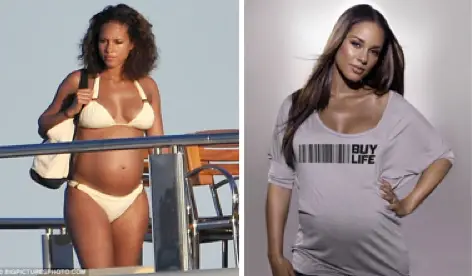 7. Beyonce
At a screening for one of her concerts Beyonce wore a long sleeve chocolate brown Roberto Cavalli gown with gold embellishment and a plunging V neckline.  She was also spotted wearing a casual loose fitting green dress as she enjoyed the company of her  family.
8. Nia Long
Actress Nia Long was spotted at a pumpkin patch sporting a comfortable white stretchy cotton shirt. She also graced the cover of Ebony magazine with her smooth as coco butter baby bump.  Lastly, we can see that Nia did not let pregnancy stop her from working out, her lavender sports tank top and black running pants look like the perfect out fit for running or power walking.

9. Leilia Ali
The gorgeous boxer wore a wine colored, boatneck red dress at the Heart Truth's Red Dress Collection 2011 during fashion week on in 2011.  She is also seen in more casual looks with a white cotton shirt and green v-neck blouse and jeans.  She looks great in all looks.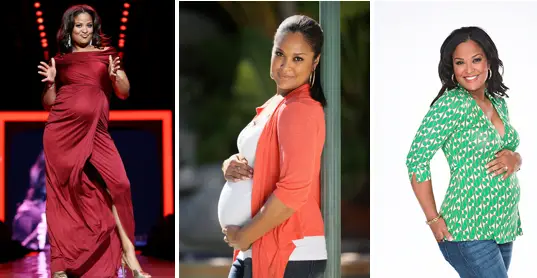 10. Mariah Carey
Mariah was very into decorating her baby bump, home to  "dem babies" with lots of art.  Check out her butterfly and Easter Egg design.
Mommies, what kind of clothes do you wear while pregnant?  Is there a brand or store that you prefer?  Is your baby bump style similar to any of these celebrities?  Please Share 🙂
Angele is a wife to a wonderful creative husband, mother to two beautiful intelligent daughters and a lover of art, education and laughter.  She is the creator and author of ABC remix.
Angele is a wife to a wonderful creative husband, mother to two beautiful intelligent daughters and lover of art, education and laughter. She is the creator and author of ABC remix